NEO NIGHTS

MAY 9 – 12, 2024

Neo Nights
Milongas
Nuevo School
Artists
Registration
Venue
Goodtoknow
NEO NIGHTS


We are happy to invite you to the 7th edition of NEO NIGHTS – international neotango festival – from 9th until 12th May 2024!
Registration will open on Friday, 24th November!

We proudly present to you a fantastic line up of artists including world-renowned and new popular live-acts from Buenos Aires. We are still finalising the program as we aim to show neotango at it's best with both a high quality musical and learning experience. Stay tuned!
The festival will take place in a hidden treasure in Ludwigshafen (close to Heidelberg and Mannheim)!
What you can expect: 
• 30 hours of dancing from Thursday (bank holiday) until Sunday
• Tanghetto, Otros Aires and La Resistencia Live on Stage
• 6 requested Neotango DJs
• a top-class 12-hour Nuevo School with Emile Sansour and Simge
• a unique venue of art/culture that was formerly a church and a cinema
Feel free to use our Facebook Group to stay uptodate, find a partner for signing up for the milongas and/or workshops, sharing accommodation or cars, etc..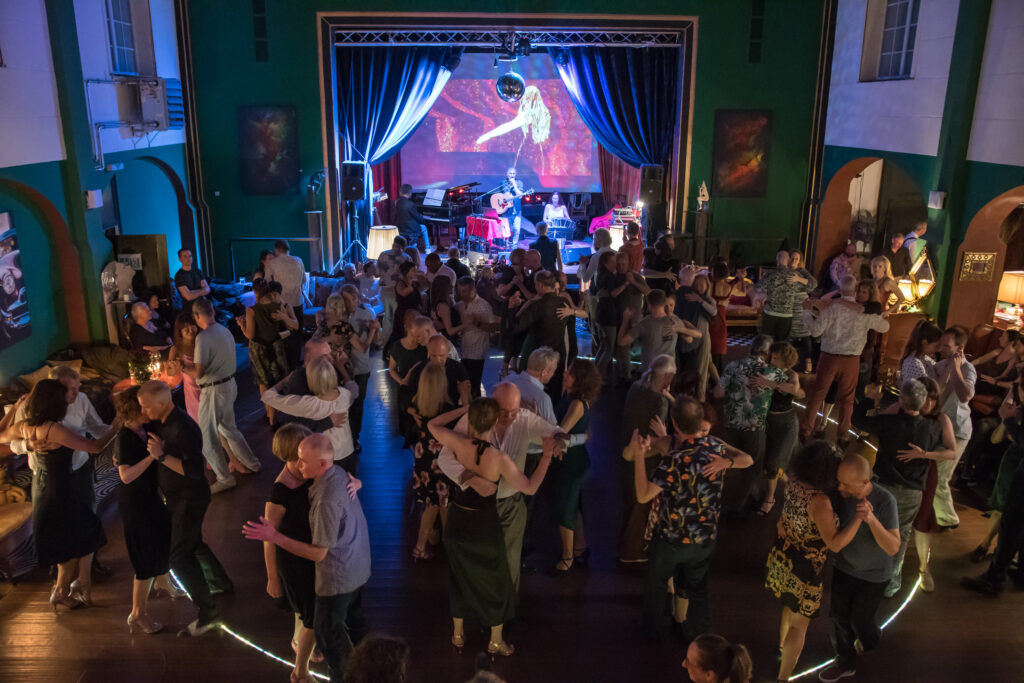 MILONGAS
Neo Night Opening on Thursday, 9th May 2024
20:00 – 2:00
DJ Claudia Kreisz
Neo Night on Friday, 10th May 2024
21:00 – 3:00
DJ Jean-Marc Vandel
Live-Sets: Tanghetto
Neo Café on Saturday, 11th May 2024
14:00 – 19:00
DJ Jens Stuller
Neo Night on Saturday, 11th May 2024
21:00 – 4:00
DJ to be announced
Live-Sets: Otros Aires
Neo Goodbye on Sunday, 12th May 2024
14:00 – 16:00
DJ Nico Calavera
16:00 – 20:00
DJ – to be announced
Live-Sets: La Resistencia (Electromilonguero)
(Program may be subject to slight change.)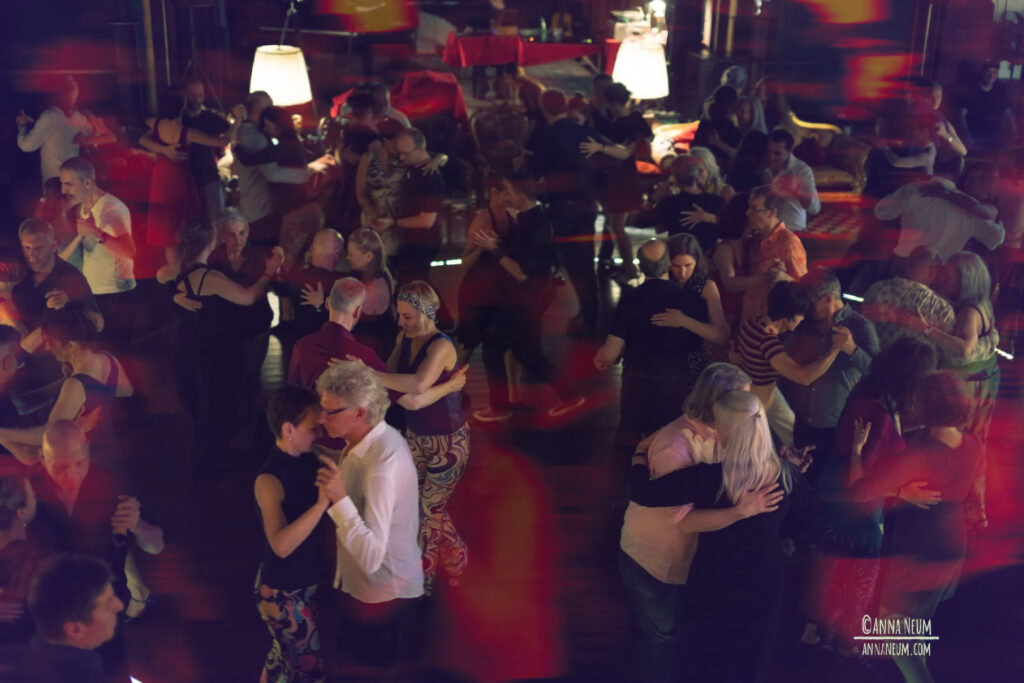 NUEVO SCHOOL

During the festival we will offer our 12-hour intensive seminar called the "Nuevo School" with Emile Sansour and Simge. The Nuevo School consists of 4 workshops for 3 hours including a short break each day.
This time the topic will be "From Todaro to Nuevo at advanced level". The seminar will provide you with the big picture of turns, combinations with different elements, and their implementation in different tango styles: from classical Todaro turns to Tango Nuevo to new ideas for advanced levels. Moreover, we will discuss the historical developement, style and philosophy, and past, present and future of Tango Nuevo.
The seminar will be held in German and English.
A prior registration is necessary. Registrations for the complete Nuevo School will be preferred. It is also possible to sign up for single workshops.
Emile Sansour has been teaching Tango for over 30 years. Tango Nuevo is his specialty. He is the founder of Intango, the first Tango school in Heidelberg, and one of the pioneers of Tango in Southern Germany. Emile has trained numerous tango dancers who are now tango teachers themselves. He teaches the Nuevo School together with Simge who also received her tango teacher training from Emile.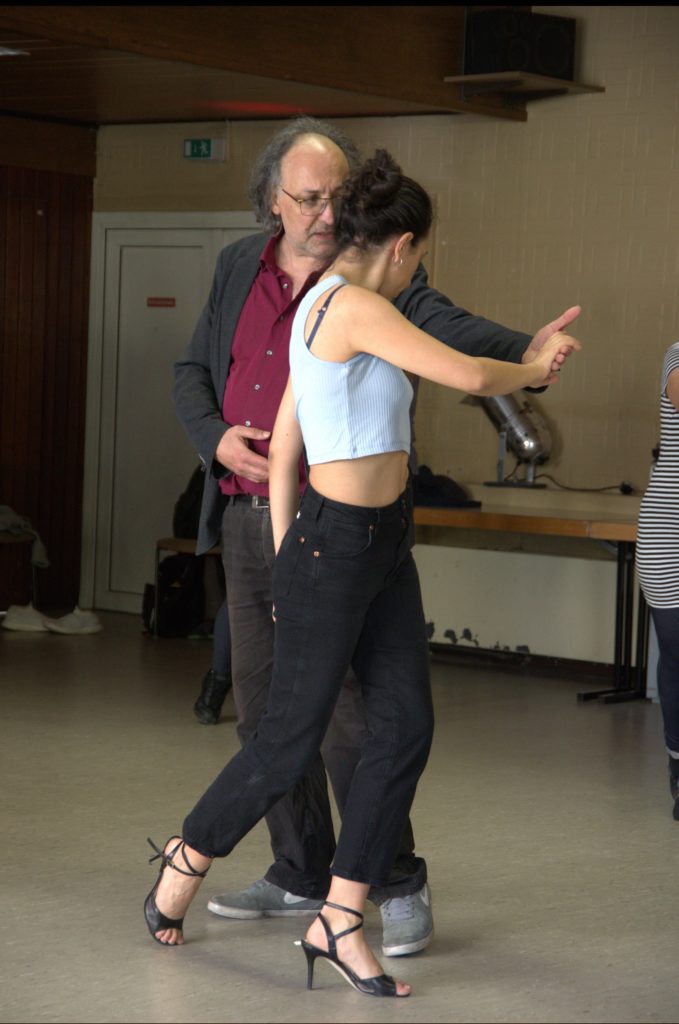 Workshop 1: Thursday, 9th May, 17:00 – 20:00
Milonga and Vals: Turns, Rhythmical Combinations and Change of Dynamics
Workshop 2: Friday, 10th May, 18:00 – 21:00
Turns in traditional Todaro style and Turns in Nuevo. Understanding the Methodology of Giros, Enrosques and Planeos.
Workshop 3: Saturday, 11th May, 12:00 – 15:00
Sequential Colgadas in Combination with Ganchos and Boleos and Ideas for more Combinations
Workshop 4: Sunday, 12th May, 12:00 – 15:00
Giros in Combination with Sacadas and Ganchos for followers and leaders
ARTISTS
Otros Aires / Buenos Aires
Tanghetto / Buenos Aires
La Resistencia / Buenos Aires
Jens Stuller / Berlin
Jean-Marc Vandel / Lausanne
Nico Calavera / Buneos Aires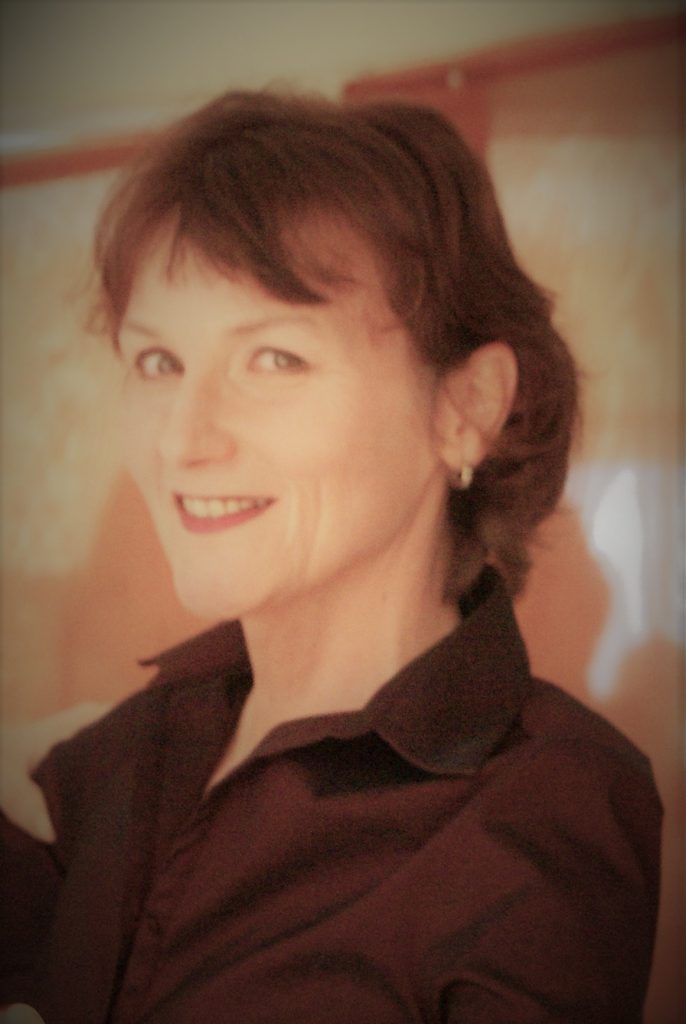 Claudia Kreisz / Bruchsal
More to come..
REGISTRATION
REGISTRATION START: Friday, 24.11.
If you want to register, please fill in the registration form that will appear below on this page on the 24th November.
Please register as a couple (follower/leader) if you want to make sure you get a spot!!!
The number of passes is limited to 130. The event will be balanced (leader/follower/double role).
Participation only with a prior registration! No tickets at the door!
BOOKING OPTIONS:
a) Milongas
Neo Nights Pass: 120,- Euros per person (all milongas!)
Only Neo Night with Tanghetto: 35,- Euros per person – limited to 20 couples (follower/leader)!
Only Neo Night with Otros Aires: 35,- Euros per person – limited to 20 couples (follower/leader)!
Neo Night Opening: 15,- Euros per person (included in the pass)

b) Workshops
Nuevo School (12 hours): 190,- Euros per person
1 Workshop (3 hours): 55,- Euros per person
2 Workshops (6 hours): 100,- Euros per person
3 Workshops (9 hours): 145,- Euros per person
c) Milongas + Workshops
Neo Nights Pass + Nuevo School: 300,- Euros per person

VOUCHER: Are you looking for a Christmas gift? We would be happy to issue a voucher for the pass, single milongas or workshops. If you want to order a voucher, please write this in the comment field of the registration form. We will send you the voucher via email so you can print it out yourself.

HELP: For those who would like to support us during the event (for example 1 x 4 hours or 2 x 4 (hours), we will refund the pass (50% or 100% accordingly) after the event.
REGISTRATION FORM: